Here, there, over here, over there, 1996
Wall drawing (183 x 244 cms), binoculars, tripod
[Photograph | Heini Schneebli]



The picket fence is positioned so that from a particular viewpoint, the perspective appears to continue the space of the gallery. The image of the fence was transferred to the gallery wall by projecting it from the correct viewpoint and drawing directly onto the wall. A pair of binoculars on a tripod was then positioned at the correct viewpoint. These served both as an invitation for someone to peer at the picture which was some 40 feet away and as a representation of an ideal viewer.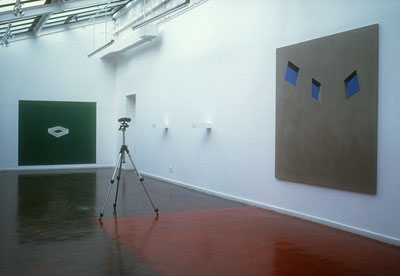 Installation view, As far as the eye can see, Diorama Arts, 1996
[Photograph | Heini Schneebli]